A Tribute to Brie
We recently had "Brie with fine herbs," a type of Brie that was so much to my liking that I felt it incumbent upon me to post about it.
First, a photo of the exact cheese we bought (taken from this website):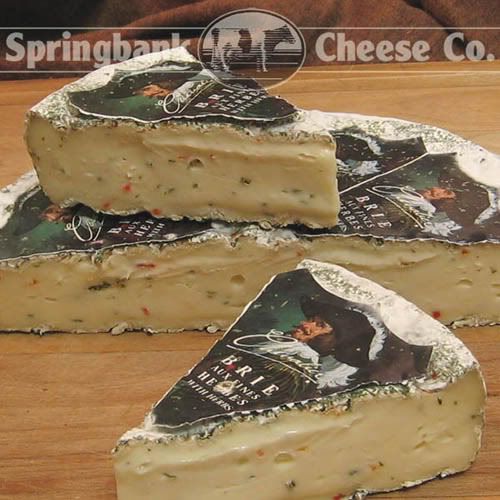 What I like about this variety is that it is soft (including the outside coating) and flavourful. This is in contrast to other Brie, which (while flavourful) tends to have a hard rind. I don't like having hard bits along with the soft inside, and it is too much bother to remove the rind entirely.
I haven't done anything particularly imaginative with the Brie. I've mainly eaten it with French bread and croissant (sometimes with lettuce added). For those of you who are more adventurous, or who have more Brie to work with, here is a recipe (from FoodNetwork.com, courtesy of Emeril Lagasse):
Delmonico's Smoked Salmon and Brie Crepes with Herbsaint Butter Sauce

For the sauce:
1/4 cup minced shallots
1 cup Herbsaint liqueur
1/4 cup heavy cream
Salt
Cayenne pepper
1 1/2 sticks cold butter, cut into pieces
1/4 teaspoon hot sauce
1/2 teaspoon Worcestershire sauce

2 pounds smoked salmon, thinly sliced
1 pound Brie, thinly sliced
12 medium crepes

In a saucepan, over medium heat, combine the shallots and Herbsaint. Season with salt and cayenne. Bring the mixture to a boil. Reduce the heat to medium low and simmer until the mixture reduces by half. Add the cream and continue to cook for 2 minutes. Remove from the heat and whisk in the butter, a couple of pieces at a time. Season with the hot sauce and Worcestershire. Strain through a fine-mesh sieve and keep hot.

Place a couple of slices each of the salmon and cheese over the bottom of each crepe. Roll each crepe up tightly. Place in a buttered casserole dish and bake in a preheated 350 degree oven for about 4 to 6 minutes, or until the cheese starts to melt.

To serve, spoon the sauce in the center of each plate. Lay a couple of the crepes in the center of sauce.
Note: It is nothing without the liqueur!!
I left out the parts about the "crispy" spinach. I don't really approve of frying spinach. It's just not right!